How can you help?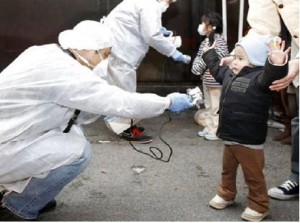 The nightmare at Fukushima Daiichi is an ongoing and dynamic crisis that will take years to overcome. It's part of a larger problem that's called nuclear power. Moms and kids are suffering TODAY in Japan because they were told over and over again, nuclear power is safe.  The reality is that this now-ancient technology threatens the world-over and it's not a question of IF but a matter of when the next disaster occurs.
With 99 active nuclear plants in the USA today, and over 20 of them being the exact same design as the one at Fukushima, the choice is obvious, end the nuclear fuel chain cycle once and for all or pay dearly later.
There are so many great organizations out there doing great things, how do you know which is the right to give to?  Your donation to Operation SAVE the Earth is going to go directly towards fulfilling the promise of the 4-step plan.  We are all about 100% transparency at OSTE and as soon as we get some funds, you'll see a daily tally of money coming in (THANKS!) and money going out to the cause all right here.
So give generously or just what you can and feel confident that your money is being put to good use.  Your donation today might save a family and that family you could be saving is your own.
Dave